Viper Security installs security camera systems in New Hampshire. We work closely with our clients directly, or with; general contractors, IT professionals, architects, interior designers , and other contractors to make sure your cameras are not only highly beneficial, but also look nice in your home or office.
We are an industry leader in the integration, installation and maintenance of security camera systems in NH.
We are passionate about providing customized security camera solutions to our customers, both big and small. From a single camera installation, to a full setup to cover every part of your property.
All of our services start with either an online, or onsite consultation. We will create a custom plan to help protect your property. We are fully vaccinated from COVID-19 and follow all CDC guidelines to ensure everyone's safety.
Contact us today!
The map below includes our approximate service area. If you have a question about what areas we service please contact us.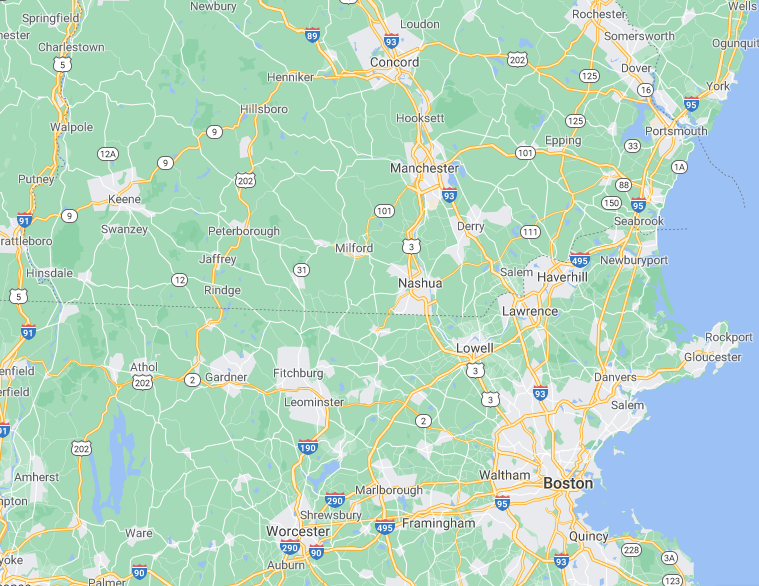 Viper Security offers residential and commercial security camera system installations in ALL of Southern NH,  Northern MA, and Southern ME, including the following areas:
New Hampshire…
Amherst NH
Bedford NH
Brookline NH
Dover NH
Greenville NH
Hampton NH
Hollis NH
Hooksett NH
Hudson NH
Keene NH
Litchfield NH
Manchester NH
Mason NH
Merrimack NH
Milford NH
Mont Vernon NH
Nashua NH
Portsmouth NH
Rye NH
Wilton NH
Massachusetts…
Ashby MA
Ayer MA
Boston MA
Devens MA
Dunstable MA
Fitchburg MA
Groton MA
Haverhill MA
Lawrence MA
Lowell MA
Lunenburg MA
Pepperell MA
Shirley MA
Townsend MA
Westford MA
Worcester MA
Maine…
Eliot
Kennebunk
Kennebunkport
Kittery
Ogunquit
York
… and nearby regions